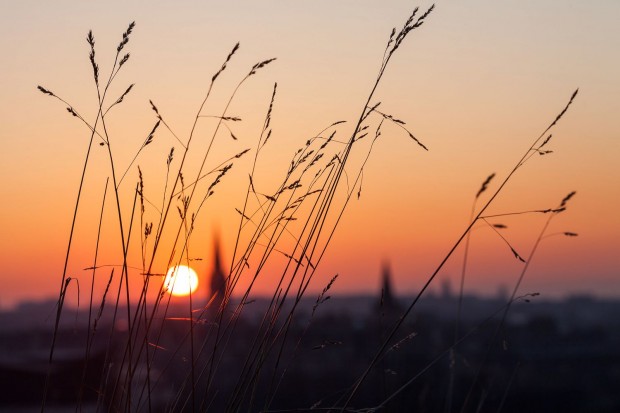 Sunset in the City of Edinburgh by Kasia Maliszewska © Malishka Photography
You need a certain amount of luck to capture a good sunset, especially if you live in the UK.
You also need to be in the right place at the right time. There will be popular locations where you live for taking sunset pictures, but try and find a spot that no-one else has thought of, or try shooting from an interesting angle or using a different type of lens.
You need to be patient and wait for the most dramatic part of the sunset to unfold. You can get some beautiful images of the sun as it disappears over the horizon. If photographing a city, you can include the silhouette of buildings, or if in the country, you can put trees in the foreground and capture their silhouettes against the night sky. A rapid shutter speed will help keep the silhouettes sharp.
Water reflects and mirrors the sunset. Try and get some sunset shots of a lake or a river. You can fill the entire shot with colour this way.
The most amazing and dramatic colours are often visible once the sun has gone and there is still an afterglow in the night sky. Clouds interact with the afterglow, leading to many vivid colours. Depending upon how close you are to the equator and time of year, this afterglow may last from a few minutes, to all night!
If you are using a digital camera to photograph the sunset, you may find that your camera automatically adjusts the colour temperature for you, reducing the effect of the colours you are trying to capture from the sunset. To prevent this you will need to switch to manual mode, or adjust the white balance control. You can even try and amplify the colours with the white balance control.
We, here at the School of Photography, are interested in your sunset photographs. Please share your photographs here or on our photography forum.